ISIS has a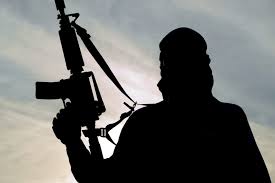 lot to offer a young man looking to find his way in life — a chance to be part of something big, something powerful and growing, something with tremendous impact. It offers brotherhood and camaraderie. It offers a way to become great.
But ISIS is not the only way to find those things. You don't have to kill people to become great. You don't have to kill people to be part of something powerful. You don't have to kill people to belong to something big.
Most people joining ISIS don't even understand the religious aspect of what ISIS stands for. God seems to be behind the ones with the guns and bombs and the ruthlessness to use them. My guess is that most people don't want to kill, they want to matter. For those who want to make a difference without violence, there's another way.
Looking for greatness in God is not entirely incorrect, just misguided in who to believe. Before joining ISIS, look to Jesus. See what He says. See what He has to offer. When we become believers of His grace, we become sons and daughters of the King of Kings, royal heirs. The God of the universe becomes our amazing Father. The life that Jesus lived on earth is a model for us to live today. Everything He did, we have the ability to do. Can ISIS raise the dead? Can ISIS heal cancer? Can ISIS restore broken lives and relationships? Does ISIS provide love, joy, peace, and kindness?
Carrying a gun does not make you great. Living the life you were meant to live with all your gifts and talents leads you into the greatness of God. Anything else will always bring pain and loneliness. Jesus can make your life matter in ways you can't even imagine. I'm not promising that life will be easy. There is still evil in the world to contend with, but Jesus will always make a way. He will always be there when you need Him. He will be everything that you need Him to be.
All you have to do is ask Him into your life. It's that simple. He hears you and He knows you. When you pray, you will hear His voice in your heart. Learn to trust Him, He knows how to take care of you. If you have questions, let me know. People care about you. You're not alone.